rock space flexible film adopts new flexible TPU material and contains various types.
TPU material was early used in the helicopter to protect its propeller and also used in the high-end racing car to ensure the integrity of the car body after collision. At the beginning of the 21st century, TPU starts to be used as paint protection film for high-end vehicles. Due to its strong toughness and hardness, corrosion resistance and hydrophobic performance, it can auto-repair scratches and prevent flying debris if any accident occurs.
Used as screen protector, TPU material features light weight, high light transmittance, self-repairing and impact resistance. It has strong adhesion which can cover the whole screen without warping edge. Small residual bubble can automatically disappear within 24 hours.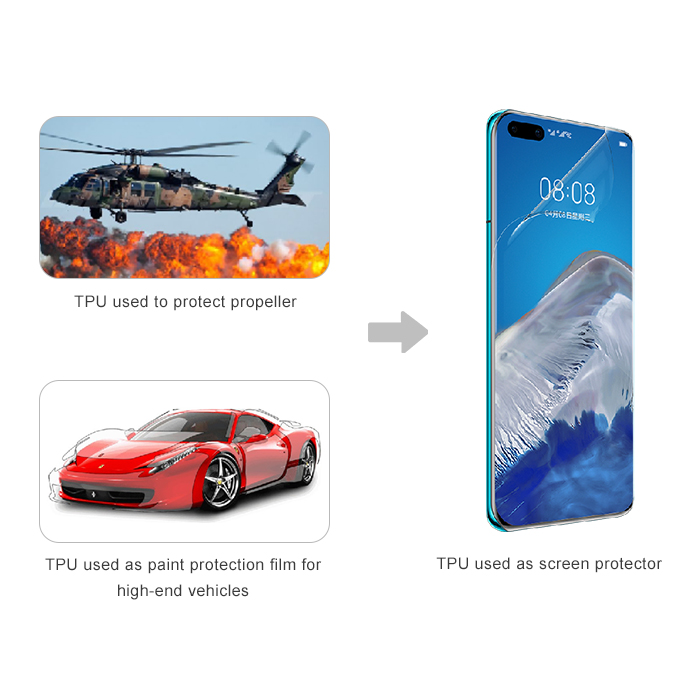 Compared with tempered glass film, rock space flexible film can be cut into any size to fit different devices like mobile phone, tablet, laptop, watch, game console, etc. It is easy to adsorb, and can cover the screen with different curvature. With middle auxiliary strip design, it is also easy to install even for beginners. rock space flexible film provides user with great experience with high light transmittance, sensitive touch and comfortable grip. And what's more, it enables to auto-repair the tiny scratches in short time to make your phone always look new.

rock space flexible films have a lots of advantages as below:
Wide Compatibility

We offer films with different options to meet customer's requirements. It is compatible with laptop, tablets, phone, watch, camera, etc.
Front Film: High definition Film, Anti-blue Light Eye Care Film,
Matte Film, Privacy Film, etc.
Back Film: Carbon Fiber Film, Aurora Film, Splendid Film,
BlingBling Film, Leather-like Film, Metal-like Film, Translucent
Embossing Film, etc.
Super tough and flexible material is scratch & wear resistant. It is
easy to install and remove.
Copyrighted popular patterns are chosen for back films.
It has passed various quality tests, proving satisfactory
user experience.
There are 25,000+ templates in our database and the
film can be cut into any size to meet customers' needs.